Introduction
The Combat Go rounds timer and combo coach is the perfect companion for guiding your shadow boxing and bag/pad workouts.
The main screen features a large countdown timer with an info panel above and timer control buttons below.
If you feel adventurous you can jump right in by tapping the big blue play button. If you want to learn a bit more about the app before you start your workout, this guide takes you through the basics.
Note that some features are still in development. These are tagged with a star * in this guide.
Main Menu
Access the main menu shown below by tapping the ≡ icon in the top left corner of the main screen.
The options available are:
Configure Workout: Specify choices for your workout such as number and duration of rounds, type of moves to practice, skill level, etc.
Preview Combos: Review the combinations in the workout the app has generated for you.
Technique Primer: Browse all the moves that are available in the app.
Below these three options there are links for opening the getting started page, providing feedback and accessing further support, and viewing info about the app including release history, etc.
Configure Workout
This is the screen where you specify the configuration choices for your workout.
The top part allows you to specify the number of rounds and duration of rounds, rest and the initial prepare period.
In this section you can also toggle to the Simple Timer. This option functions as a basic rounds timer with no combos generated.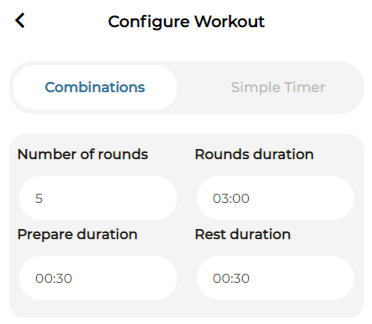 The next part allows you to select the types of boxing moves you want included in your workout. Punches are always included – the others are optional.
Next follows several options:
Skill Level: Determines the difficulty level of the moves included in the workout
Intensity: Determines how much time you are given to execute each move in a combo
Combo Complexity: Controls the number of steps (moves) included in each combo
Unique Rounds: Controls if each round includes the same set of combos or if each round is unique
Stance: Allows you to switch between Orthodox and Southpaw stance*.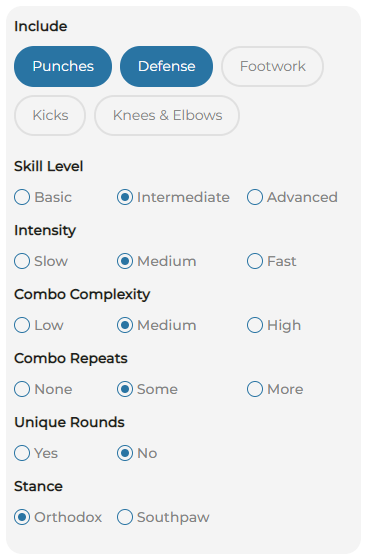 The bottom section of the screen allows you to turn on and off sounds* and toggle between light and dark mode*.
The button at the very bottom allows you to re-load the default configuration.
The Info Panel
Before a work-out is started the info panel shows a summary of the active workout settings. Tap anywhere in the info panel to jump straight to the configuration screen.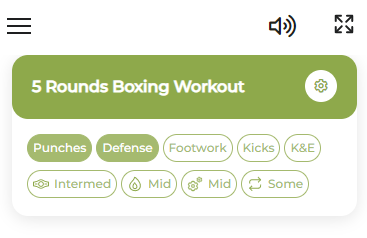 Once the workout has started and the timer is running the info panel shows the current combo as well as the next combo coming up (may not be visible on smaller screens).
Learn More
Want to learn more before you jump in? Check out our other getting started guides: